Submitted by admin on 24. January 2011 - 20:47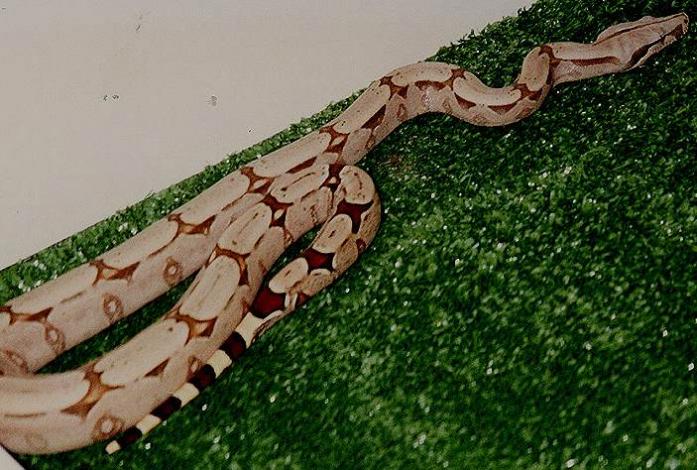 Diese Boa ist ein typischer Vertreter der "South Brazilian Amaralis" wie sie in den USA vermarktet werden. Es handelt sich hier meist um Boa c. amarali / Boa c. constrictor Mischlinge Bei den Nachzuchten ist das sehr gut zu erkennen, weil die Tiere eines Wurfes unterschiedliche Schwanzlängen haben, bzw. die Schwänze für Boa c. amarali zu lang sind. Foto: Jim Pomaville
Beschreibung_en:
Boa c. amarali x Boa c. constrictor crossbreed boa from the U.S. - These animals are called ""South Brazilian Amaralis" but in fact they are crossbreeds.
Beschreibung_fr:
Ce boa incarne parfaitement le « boa amarali du sud du Brésil » commercialisé aux Etats-Unis.

En général, il s'agit de croisements Boa c. amarali / Boa c. constrictor.

Cela peut facilement s'observer dans les portées, car les différents bébés ont des queues de longueur différente, ou présentent des queues beaucoup trop longues pour appartenir à Boa c. amarali.

photo: Jim Pomaville
Um das Bild in Originalgröße betrachten zu können, klicken Sie bitte auf den oberen bzw. unteren Bereich des Bildes.
To view the picture in original size, please click on the top or bottom of the image.
Cliquez en haut ou en bas de l'image pour la visualiser dans son format original.