Submitted by admin on 24. January 2011 - 20:27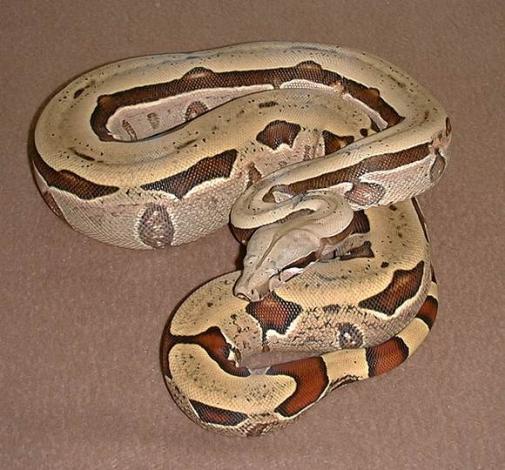 Interessant ist, dass eine aberrante Sattelfleckenzeichnung bei Nachzuchten von Bolivianischen Amarali gar nicht so selten vorkommt. Anscheinend ist dies genetisch bedingt. Auf dem Foto ist ein seitlich gestreiftes Weibchen zu sehen. Das Tier ganz oben hat ebenfalls einen Streifen im ersten Drittel am Rücken. Boa c. amarali, Bolivien (subadultes Weibchen)
Beschreibung_en:
Boa c. amarali from Bolivia, adult female, aberrantly patterned
Beschreibung_fr:
De manière intéressante, les motifs aberrants ne sont pas rares chez les amaralis boliviens élevés en captivité. Il semble que ces traits sont déterminés génétiquement. La photo ci-contre montre une femelle reverse striped, et l'animal photographié en haut de cette page présente aussi une ligne sur le premier tiers du dos.

Boa à queue courte bolivien (femelle subadulte)
Um das Bild in Originalgröße betrachten zu können, klicken Sie bitte auf den oberen bzw. unteren Bereich des Bildes.
To view the picture in original size, please click on the top or bottom of the image.
Cliquez en haut ou en bas de l'image pour la visualiser dans son format original.