Submitted by admin on 24. January 2011 - 22:05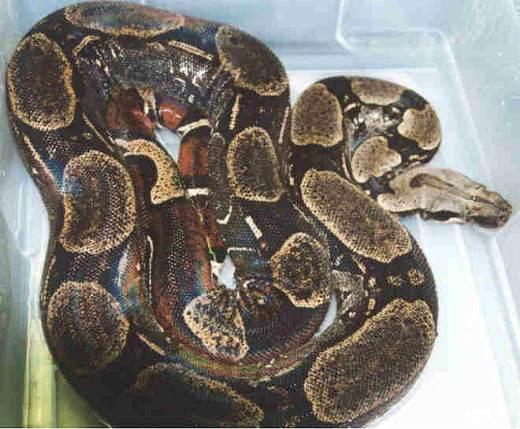 Boa c. melanogaster; Diese Unterart wird von den Taxonomen nicht allgemein anerkannt. Die meisten von ihnen denken, dass es sich bei dieser Boa lediglich um eine örtliche Variante von Boa c. constrictor handelt. Foto: Vincent Russo
Beschreibung_en:
This subspecies is not acknowledged by most of the taxonomists. They believe that it is just a local variant of Boa c. constrictor.

Foto: Vincent Russo
Beschreibung_fr:
Boa c. melanogaster; Cette sous-espèce n'est pas reconnue par tous les taxonomistes. La plupart d'entre eux considèrent que ces boas ne représentent qu'une variante de couleur de Boa c. constrictor

photo publiée avec l'aimable autorisation de Vincent Russo
Um das Bild in Originalgröße betrachten zu können, klicken Sie bitte auf den oberen bzw. unteren Bereich des Bildes.
To view the picture in original size, please click on the top or bottom of the image.
Cliquez en haut ou en bas de l'image pour la visualiser dans son format original.