Submitted by admin on 24. January 2011 - 14:53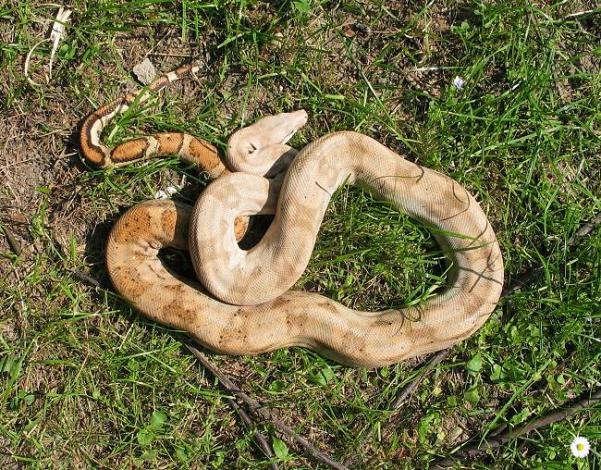 Von Cayo de los Cochinos, einer Insel vor der Küste von Honduras, wurde erstmals 1988 eine interessante Farbvariante nach Deutschland importiert. Die Grundfarbe dieser so genannten Hog Island Boas reicht von einem milchigem Weiß bis zu einem hellen Graubraun. Einige außergewöhnliche Exemplare zeigen ein leuchtendes Orange.
Beschreibung_en:
Hog Island Boa c. imperator
Beschreibung_fr:
Une variante de coloration intéressante de Boa c. imperator fut importée pour la première fois en Allemagne en 1988 depuis Cayo de los Cochinos, une île située au large du Honduras. La couleur de ces animaux, connus sous le nom de Boas Hog Island va du crème au gris brun sombre. Certains spécimens extraordinaires arborent même une flamboyante couleur orange.
Um das Bild in Originalgröße betrachten zu können, klicken Sie bitte auf den oberen bzw. unteren Bereich des Bildes.
To view the picture in original size, please click on the top or bottom of the image.
Cliquez en haut ou en bas de l'image pour la visualiser dans son format original.