Boa constrictor for sale | order a true Boa constrictor | how to buy a Boa constrictor | Boa constrictor classifieds | Boa constrictor store | true Boas for sale | purebred boa constrictor for sale | true Boa constrictors available | acquiring a boa constrictor | boa constrictor classified ads | boa constrictor for sale | best boa breeders | purebred boas | purebred boa constrictor for sale | breeder purebred boas |
Premium Boa constrictor offspring bred by H + E Stöckl
livetime consulting service instead of cash and carry price
dedicated hobby breeding instead of mass produced boas
always accessible in case of problems
no "purebred boa" rip-off
extensive specialist knowledge
many years of experience
---
< click here for an overview pane of our latest cb boa babies >
---
Note:
We are not a discounter.

But at our place you get the real thing, no fakes.
You are looking for your first Boa constrictor? The perfect boa for a novice? Your quest is over, we have exactly what you need! Just ask us.
What you should know:
By purchasing one of our animals you also acquire a life-long consulting service. In case of questions or problems you can contact us at any time. You get an answer via e-mail or telephone, even years after the purchase.


We sell only absolutely healthy and well-feeding boas. I a problem occurs anyway we are very obliging within the first several months after the purchase.
For the boas we sell we grant the most possible support in any way, because the welfare of our animals and the contentment of our customers are of utmost importance to us.
Wir guarantee the correct determination of the gender of the boas we sell!
The boas will be sold on "first come - first pick" base. Unfortunately we can't accept reservations for a given specimen in a photo because this means to seperate it. Due to the large number of babies we simply haven't got the room to do so.
Please note:
For the sake of the health of our animals we don't offer them on reptile shows!
In contrast to many pet-shops and some other breeders we are still interested in the welfare of our animals after the customer left our house with his/her new acquired boa! We offer a free lifetime consulting service with each of our boas for the person who buys it from us.
(However: The consulting service is granted only for the first owner. Boas from ours that are sold again, don't apply to our consulting service anymore).
The boas on our "for sale page" are in the best imaginable state of health. If one of our boas dies within 2 month after the purchase we obligingly grant a free-of-charge replacement.
Please take notice: The arrangement described above are on accommodation. We don't grant a legal claim on this.


The Boa c. imperator from the State of Tamaulipas/Mexico isn't only a hardy boa for a beginner with a docile temper, but also a so-called dwarfish boa. As a rule, dwarfish boas are rare and expensive. The former is also valid for the Tamaulipas Boas, because our offpring 2014 is the first one in Europe.
In order to introduce this new variant to the European community of boa constrictor enthusiasts and offer interested person the possibility to buy a dwarfish boa for a reasonable price we decided to sell a contingent of Tamaulipas boas for a "beginner price".
Tamaulipas dwarf boa, offspring 2014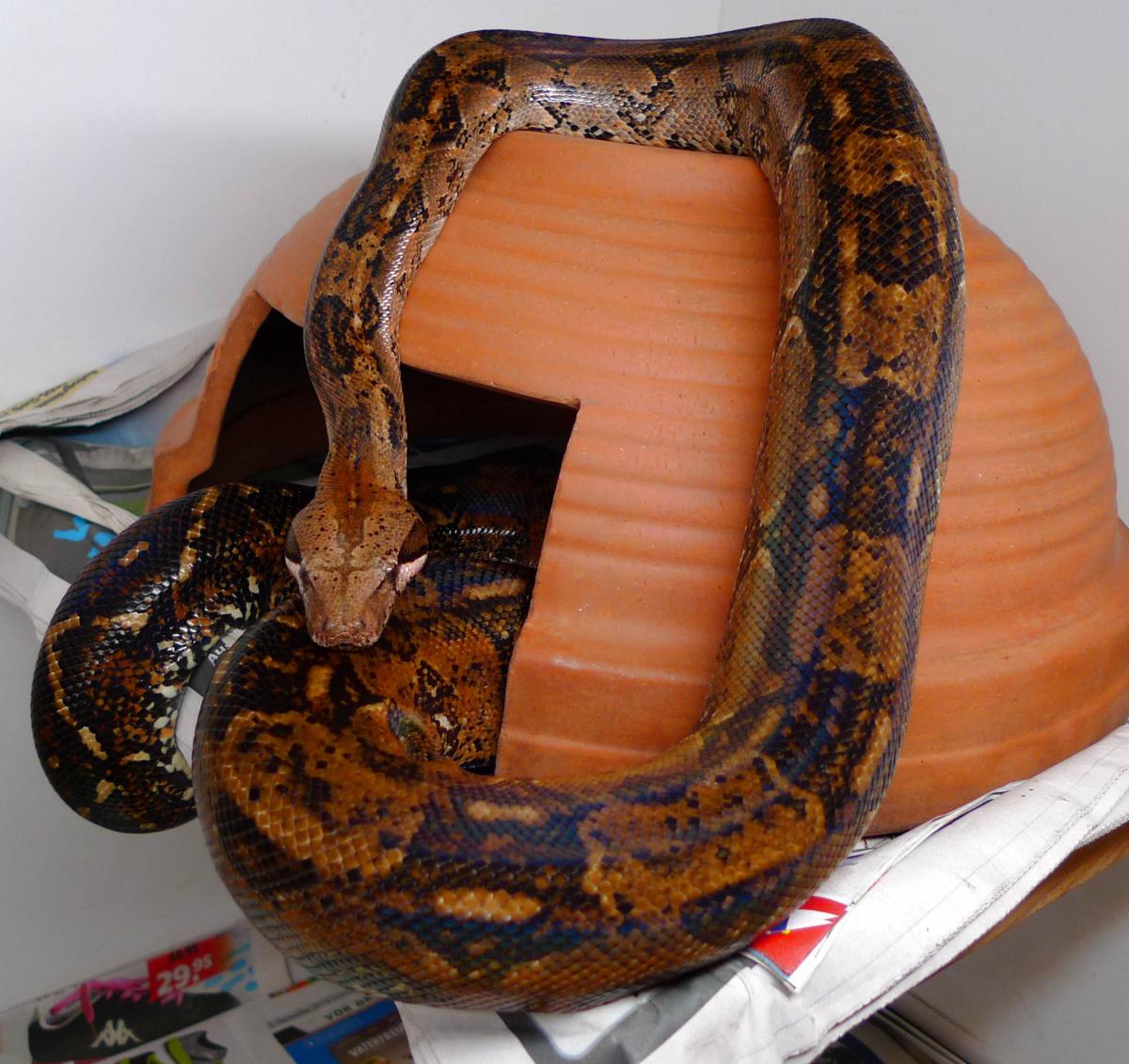 Motherof the babies
Click here for photos of the babies:

Tamaulipas Boas offspring
---
---
It's unwise to pay too much, but it's worse to pay too little. When you pay too much, you lose a little money - that's all. When you pay too little, you sometimes lose everything, because the thing you bought was incapable of doing the thing it was bought to do. The common law of business balance prohibits paying a little and getting a lot - it can't be done. If you deal with the lowest bidder, it is well to add something for the risk you run, and if you do that you will have enough to pay for something better.
John Ruskin
Documents
When you acquire a boa constrictor from our stock you get a document of origin in the form of a certificate (see pic below) as well as a comprehensive written information regarding the housing, care and maintenance of the new roommate and of course an invoice.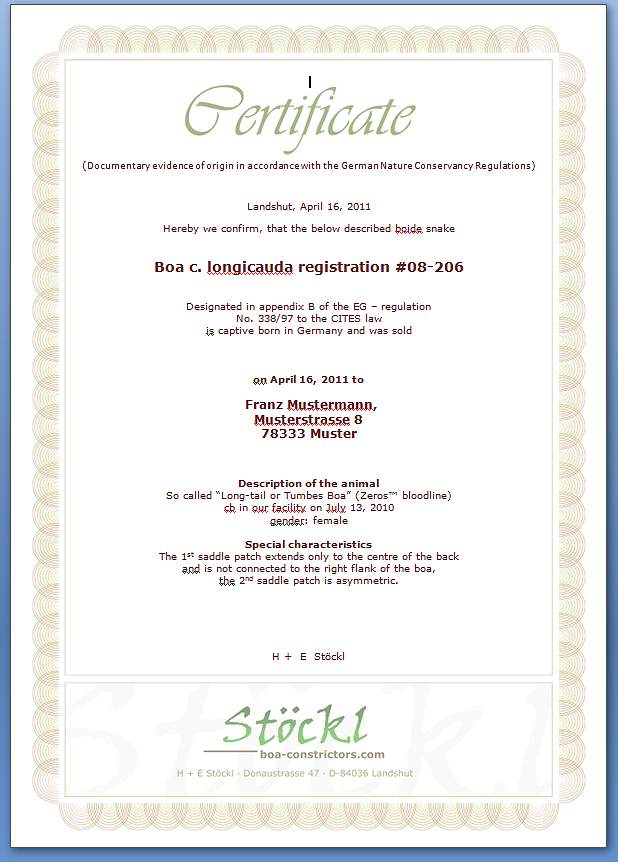 Every boa that we sell is furnished with a certificate of authenticity which confirms that the animal ist from our stock and purebred regarding the subspecies AND the distribution area!
If you are interested in our captive bred boas contact us:
Hermann and Erika Stöckl
Tel/Fax: +49 (0)871/55625

cellular phone +49 (0)171-8838319

Email: info@boa-constrictors.com
We live in Landshut, that's 70km east of Munich/Germany
<< Prices on inquiry >>