Submitted by admin on 9. July 2011 - 1:30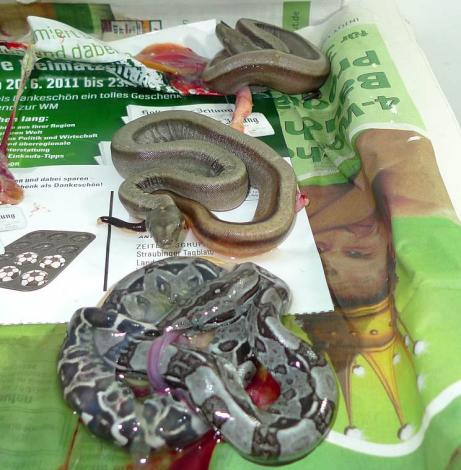 Zeros™ Nachzucht 2011! Mit der Wiederholung des Zuchterfolges von 2010 ist nun endgültig und zweifelsfrei bewiesen, dass es sich bei der Zeros™ Variante um eine genetische Veranlagung handelt, die vererblich ist.
Beschreibung_en:
Zeros™ offspring 2011! By repeating our breeding success of 2010 we have furnished proof that the Zeros™ variant of Boa c. longicauda is genetically determined.
Beschreibung_fr:
Zeros™ nés en 2011 ! En réitérant notre reproduction réussie de 2010, nous avons fourni la preuve que la variété Zero™ de Boa c. longicauda est déterminée génétiquement.
Um das Bild in Originalgröße betrachten zu können, klicken Sie bitte auf den oberen bzw. unteren Bereich des Bildes.
To view the picture in original size, please click on the top or bottom of the image.
Cliquez en haut ou en bas de l'image pour la visualiser dans son format original.