Submitted by admin on 6. December 2011 - 2:53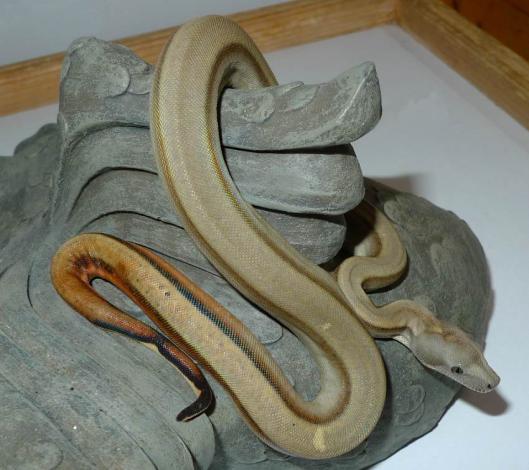 Es hat sich mittlerweile herausgestellt, dass es eine bedeutende Vielfalt bei unseren Zeros™ gibt, was sie natürlich noch interessanter macht. 18 Monate nach ihrer Entstehung erlaubt ihre Entwicklung das Urteil, dass es silberfarbene Exemplare, gelb-schwarze und sogar eine Variante mit einem rosafarbenen Schwanz gibt. Hier ist das erste Foto dieser Variante, die in den Nachzuchten 2011 aufgetaucht ist. Die Zeros™ werden unser großes Zukunftsprojekt sein und wir freuen uns schon sehr darauf, zu erforschen welche Bandbreite in diesen Tieren steckt.
Beschreibung_en:
Meanwhile it turned out that there is a significant variety in our Zeros™ that make them even more interesting. About 18 months after the emergence of the Zeros™ their development proves that there are silvery colored specimens, yellow-black colored ones and even a variant with a pink tail within this new strain of aberrant boas. Here is the first photo of our pink tail Zeros. The Zeros™ will be our major project for the future and we are looking forward to learn more as to the bandwidth of this variant.
Um das Bild in Originalgröße betrachten zu können, klicken Sie bitte auf den oberen bzw. unteren Bereich des Bildes.
To view the picture in original size, please click on the top or bottom of the image.
Cliquez en haut ou en bas de l'image pour la visualiser dans son format original.